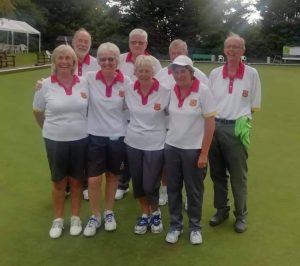 Social had a great star against our opponents Bush Hill Park having a 9-0 lead after two ends. The position was 12-4 two ends later but fifth end saw the scores back level when we dropped scores of 6 and 2.
After 7 ends in this 15 end match Margaret's rink was level at 9 all and Dave led 8-3. The ninth end had the match back even again with 3 shot differences on each rink. At 12 ends Bush Hill Park took the lead by 2 shots with Dave's rink being level. The next end saw Margaret's rink get level with Dave being up by 1 shot.
After 14 ends Dave who was nearly an end in front was a shot down and Bush Hill Park opted to concede a shot rather than risk losing more so it was down to the final ends.
Dave managed to win his end to finish at 11-11, giving us a one shot advantage with one end to play on the other rink.
The rink was 3 shots down when Margaret came to bowl but being the composed under pressure bowler that we know she is, Margaret managed to just beat their nearest bowl with her first and then switched hands to deliver an even better bowl to lie 2 and give Social a 3 shot victory. Congratulations to everyone a great team effort.